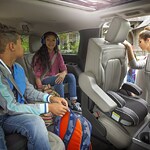 A new vehicle represents a significant investment, and it's important to consider all the angles before making such a large purchase. Our team believes that today's sport-utility vehicles have a lot to offer, and we carry a selection of some of the most popular SUV models currently on the market.
SUVs combine the comfort of a sedan, the convenience of a passenger van, and the cargo-carrying ability of a truck into a single vehicle. SUVs also generally furnish greater visibility and a more substantial presence on the road that many drivers prefer.
With an SUV, you have numerous options for personalizing your ride. You can choose a modestly sized crossover with seating for five or go big with a full-size version that contains three rows of seating and space for up to eight. You can also change up the interior as needed by folding down individual seats and entire rows to accommodate extra-large cargo.