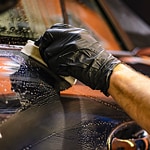 Whether you're detailing your vehicle to prepare it for sale or simply for your own personal satisfaction, we here at New Way Auto in Jefferson, IA have a few helpful tips to make the process easier.
Automotive cleaning products exist for a reason, and it's in your interest to take full advantage of what's available. Microfiber cloths are excellent for sprucing up the dash and console, and a vacuum cleaner with an attached upholstery brush is ideal for lifting even ground-in dirt from seats, floor mats, carpeting, and interior trim.
On the exterior, always work from top to bottom, and frequently rinse the surface with clean, running water as you wash to prevent dirt particles from scratching the finish. Pay special attention to the windows and dry them completely to prevent water spots and streaking. Go over the wheels last using a tire cleaning product to remove excess dirt and add shine.