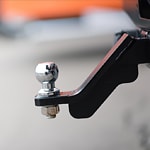 When it's time to camp, we get excited at New Way Auto. Today in Jefferson, IA, we put together some tips for prepping your car, truck, or SUV to tow a camper.
Crucially, you have to check your camper's weight and your vehicle's towing capacity first. You'll find the camper's weight on a plate with its serial number or within its documentation. For your vehicle's towing capacity, check the owner's manual, which will also tell you which class of trailer hitch your vehicle can accommodate. When you acquire your hitch, you'll also need wiring connectors. These attach your vehicle to the camper's running lights, turn signals, and brake lights.
Smooth driving will also help you keep your vehicle ready to tow. It will extend the life of your shocks, brakes, and tires. Before you tow, always check your oil and other fluid levels. Proper maintenance makes towing safer.